More from Champak
Moti was looking for a place to sleep. Read more to know what followed when he slept inside a drum.
Pari, the squirrel, a school teacher was very forgetful. And this was always getting her into trouble.
Once when she was going to the market, she realized that everybody was giggling at her. It was only after she checked her face in the departmental store mirror, she knew why. Pari had forgotten to wash the soap off her face before leaving
Another time, the heater in her room was not working. She called the electrician and said, "Please come immediately. I am in great trouble."
Within five minutes, she heard a siren and her door was broken down. Two men rushed in with a stretcher and tried loading her on to it. As it turned out, she had called the hospital instead of the electrician.
Needless to say the paramedics were very angry and Pari was very embarrassed.
Yet another time, when she returned from school, she couldn't open her front door. She tried all the keys she had, but none of them worked.
When the lock was broken and she finally entered the house, she was shocked to find that the furniture looked different. Everything was placed elsewhere.
Later that evening somebody began ringing the bell furiously. When Pari opened the door, she understood why her keys didn't work. It wasn't her house.
While she lived on the 16th floor, Pari had mistakenly taken the elevator up to the 17th floor. The house owners were furious and Pari then spent a lot of money fixing the door.
Seeing how scattered her thoughts were, Pari's friend Leelu, the cuckoo suggested that she make a list of all her day's chores.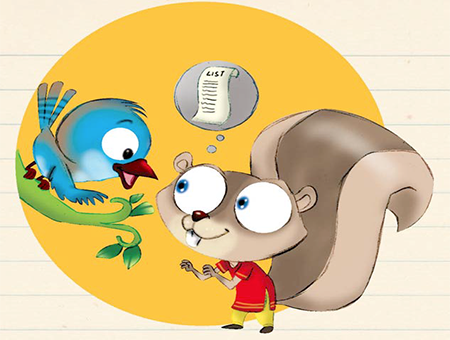 While Pari made a list every morning, more often than not, she would forget where she left her list. She would waste time looking for it and this resulted in her being late.
One morning, when Pari reached the school, the principal walked up to her and told her that she would be giving the annual day speech next week.
Pari was excited and she was determined to prove to the others that she could be perfect for the job if she set her mind to it.
She prepared and finalised her speech the same day. In the evening she went to pick an outfit and even found matching accessories. She spent all her free time rehearsing her every move.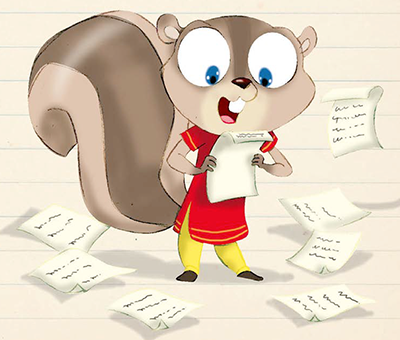 Soon, from getting up from her seat, to delivering the speech, to sitting back down, she knew it all.
On the day of the function she got ready early, and rehearsed again. Worried that she might board the wrong bus, Pari took a taxi to school and kept checking her reflection in the mirror. The last thing she wanted was for somebody to notice that she had applied lipstick on her eyes and kajal on her lips. Fortunately, she had made no such mistake.
She entered the school auditorium ahead of time and waited at her seat. She waited and waited but nobody arrived.
"Such indiscipline," she thought to herself. She waited some more and repeatedly checked her watch and still there was no sign of anybody. At last the peon, Peeku, the parrot entered the auditorium.
"Why are you so late?" she shouted at him. "Come on let's get the stage and the microphones ready. We are running late and I haven't rehearsed even once."
Peeku was utterly confused. "What are we getting the stage ready for?" he asked scratching his head.
"Don't tell me you've forgotten about the schools annual day function today," said Pari, still angry.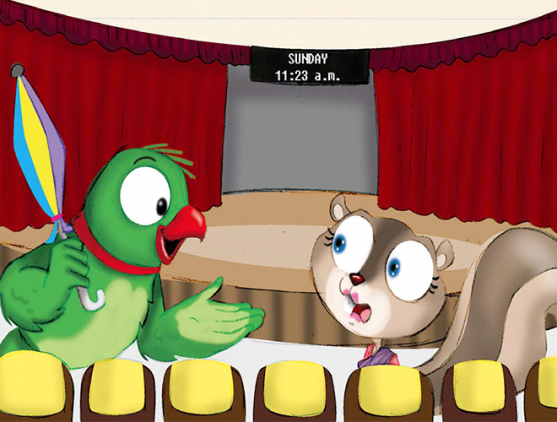 Peeku burst in to laughter. "Ma'am, the function is tomorrow. Today is Sunday. Luckily I came in to pick up my umbrella. Otherwise you would have stayed here all day!"
Pari checked the date on the wall clock and realized he was right. She laughed at her own folly and went home.
Pari returned the next day and told this anecdote as part of her speech and got a big laugh from everyone present. They all appreciated her ability to laugh at herself.